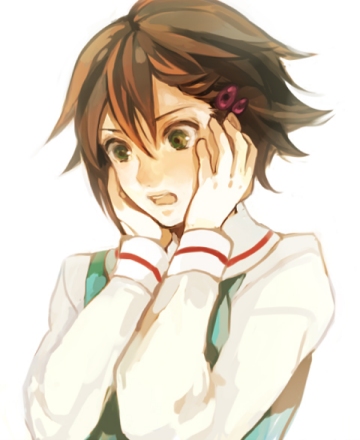 Approximately 10 days ago, I left a comment on The Scrumptious Anime Blog explaining why men don't like Noe:
"The problem with Noe is that she's crazy. She's always jumping out of trees and talking to chickens. No guy wants to be in a relationship with a girl who tries to make him eat chicken feed. Unless he's desperate." – Baka-Raptor

Her response:
"@Baka-Raptor: ouch Noe is not crazy =___= she might be eccentric, but her actions before were playful and innocent. The pureness of her heart is admirable, but I don't think a Noe-hater would understand that, unless you look deeper into her heart and her actions .___." – usagijen
Whoa, let's try to be civil here. I'm not saying we should throw Noe in a padded cell (though I'm not saying we shouldn't). I'm only saying she's too crazy eccentric to date. Suffice it to say this doesn't take much. Guys are quick to call their girlfriends crazy for all kinds of reasons:
Calling twice in one day
No sex after four dates
Crying for any reason whatsoever
Laughing hysterically at a moderately funny joke
Guys always have an easy way out when things don't go their way: calling the girl crazy. After all, we're steadfast, rational, resolute men. They have mood swings and PMS. When I complain, I'm insightful. If I were a girl, I'd sound like a bitch. Is it fair? No, but in exchange for first-glance credibility, women have plenty of advantages over men:
Longer life expectancy
Cars stop for them at crosswalks
Courts are more likely to condone their use of deadly force in self-defense
No social stigma for watching TV all day while their spouses slave away at the office
Still don't think gender makes a difference? Just look at Owen. It's my understanding that Owen once ruled the anime blogosphere with an iron fist. Then as soon as everyone found out she's a girl, they couldn't help but patronize her. For example, Kurogane wrote a whole post calling her beautiful. If Kurogane called me beautiful, I'd kick his ass!
Back to Noe, it's not like she's the only crazy anime girl. You don't get much crazier than Priscilla. I mean, she likes Raki. Oh yeah, and she eats people.
A few more crazy anime girls: