I used to think that any anime with giant robots would be better off without them. This is no longer the case.
But Baka-Raptor, why would you ever bother watching The iDOLM@STER?
It all started back in 2006 when a reader called Genius Sage submitted the following idolm@sterpiece to my challenge. Like all respectable artwork, it was drawn in MS Paint, and it didn't require interpretation.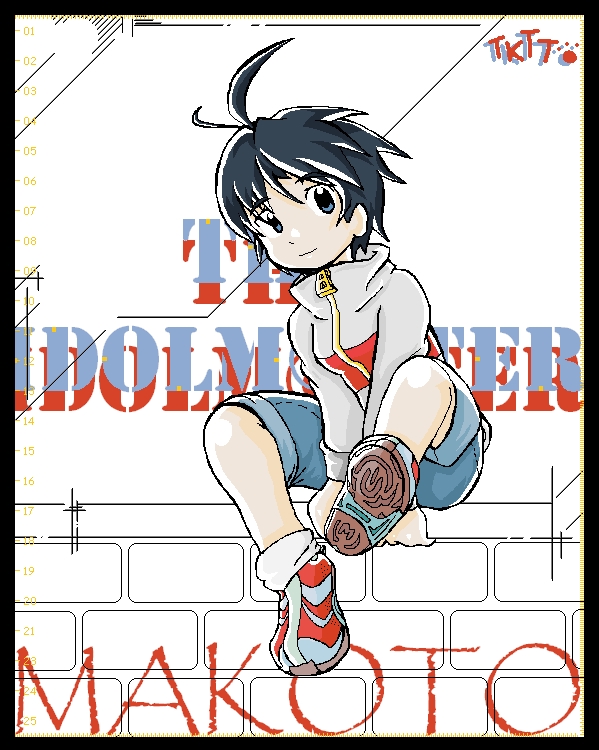 Although I approved of it artistically, I didn't know anything about Makoto or T– Idolm—er, so I sent Genius Sage the following reply:
Just out of curiosity, is this an original character? I don't recognize her, and googling Makoto didn't turn up anything relevant. Googling "Idol Makoto" got me nothing but porn.
Genius Sage replied:
Ah, it's Makoto Kikuchi from the game/ upcoming anime (Produced by Sunrise), IDOLM@STER.

Sorry that the text wasn't illegible enough.
I was further inspired to watch it when I learned that Genius Sage, who also goes by the name Giant Shrimp, apparently did something badass enough to get permanently banned from deviantArt. Is there any better way to prove you have great taste?
Idolm@ster Xenoglossia was actually ok, despite the robots with feelings. Take them away and things could only get better, right? Unfortunately, I underestimated how much non-boringness the robots brought to the franchise.
The idols do concerts and TV shows and stuff. Those parts tend to be pretty good. Then there's the personal drama, which tends to be childish and sappy. Then there's the industry drama, which tends to be catty and obnoxious. Let's just put it this way: my favorite episode was the one with Azusa getting lost and helping random people around town. Yeah. That's as good as this show gets.
Takane Shijou is my favorite idol. She has that rare balance of not looking like she's five years old, not acting like she's five years old, and not singing like she's five years old. Plus she reminds me of Shizuru: elegant and refined, yet constantly trolling the world around her.
I don't get the whole Ryuuguu Komachi thing. Let me take that back. I don't get two-thirds of the Ryuuguu Komachi thing. The selection of Azusa is very understandable, by why Ami and Iori? There's no point in having twins if you're going to treat them as individuals. And why is Iori good enough to be in there? She spent all of the second episode trying to figure out what her appeal is (a worthy endeavor, as I couldn't find it either). Then all of a sudden she's one of the best idols the studio has to offer? Please.
Quick reviews of the other idols:
Haruka: Bland for the lead. Spent more time talking about being clumsy than actually being clumsy.
Chihaya: Excellet singer, but the drama…oh god, the drama…
Hibiki: She likes animals…yawn
Yayoi: She's poor…yawn
Miki: Slutty (good) and talks in the third person (bad)
Yukiho: Afraid of men, animals, and being a good character. Much better in Xenoglossia.
Makoto: Gimmicky, but a worthy gimmick in inadvertently seducing other women
Ritsuko: Not sure what her role in the games is, but I like the business/idol mix
Ami & Mami: Expected to be extremely pedophilic. Turned out to be merely very pedophilic. To their credit, actually kind of amusing at times.
Final Grade: ~