Roboraptor: Toy of the Millenium
Do you love somebody but don't know how to show it? Looking to win back your ex? Need a way to propose that doesn't involve turning over two months' salary to a diamond cartel? The solution to all your relationship problems is simple -- buy that special someone a Roboraptor!
Before you read any further, watch the official commercial and try to comprehend just how much ass it kicks. Is it possible to design a better commercial? I think not. That blonde guy wasn't a believer, but the Roboraptor wasn't about to stand down and take his shit. It kicked his ass, and considering all the slick features programmed into it, the Roboraptor let him off easy: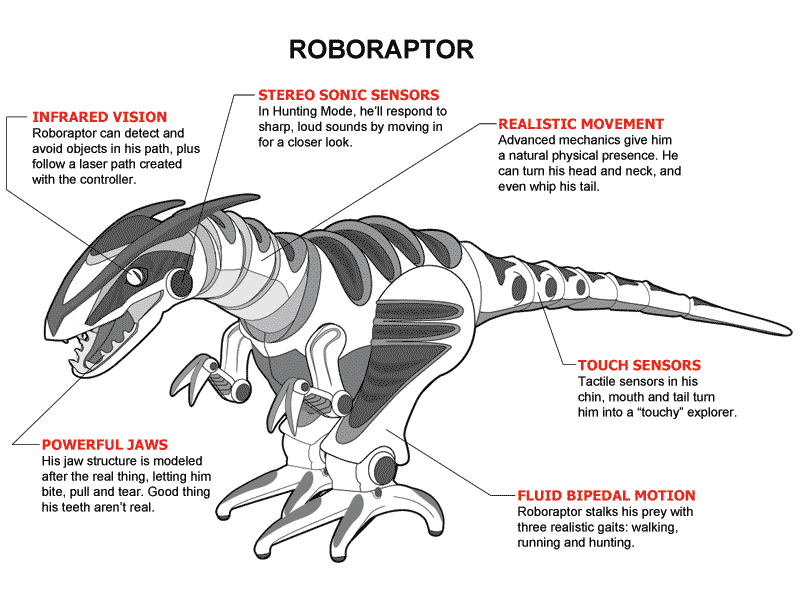 Note: Roboraptors can only be appreciated by red-blooded Americans. Since I have a fan in the UK these days, there's no better time to talk about how much the UK sucks. Some lame British site made a shitty attempt to rate the Top 10 Toys for Teens for the 2005 Christmas shopping season, and the Roboraptor got shafted at the 8th spot. I wouldn't be so pissed off if the first seven toys were remotely violent, but holy shit, just look at the crap it lost to:
1. Snooker Table: "Work towards that 147 break with this 5ft foldaway snooker table." A foldaway snooker table is the must-have Christmas toy in the UK? You've got to be kidding me. Who needs stereo sonic sensors and infrared vision when you can work towards that 147 break? It's not even regulation size. Advertisers must've confused the British by not using the inferior metric system.
2. Mindless ATB3 Junior Mountain Board: "Try the latest outdoor adventure sport - mountain boarding! This junior mountain board has everything to get you started correctly." This actually looks pretty good, but since I'm an asshole, I'll say that it's the shittiest product on the list.
3. Candle Making Kit: "Make stunning seasonal candles to keep yourself or give away as gifts. Kit contains pillared and spherical candle moulds, pelleted wax, colouring, mould sealer, rods, wick, wire, sequins, beads, pins and full instructions." I've always dreamed of making seasonal candles, but I was afraid that I wouldn't be able to share them with others. Now that I can keep them OR give them away as gifts, I can let people know how much I hate them by giving them shitty handcrafted candles.
4. R2-D2 Landline Telephone: "A real R2-D2 replica home telephone from Star Wars. The phone has an animated feature where R2s head spins and lights flash with an incoming call or in demo mode." Wow, a telephone that looks like something other than a telephone. That's a novel concept. Alexander Graham Bell must be rolling in his grave.
5. Girls Crush Easy Colouring Kit: "Go colour crazy with these 3 step easy colour styling tongs! Just pick a colour to suit your style, Load up the tongs with colour and streak away to look great." Girls, if you want to look good, stop eating pie and get on the treadmill. Don't buy this crap.
6. Ring Things Jewellery Kit: "Use jumbo jump rings to make all sorts of jewellery. Contains over 250 jumbo jump rings, 1500+ glass beads, 3 pair of earring hooks and 10 closures for bracelets." Holy shit, if my parents gave me this for Christmas, I'd run away and convert to Islam.
7. Box of Magic Tricks: "This exciting collection of 125 easy-to-perform magic tricks includes an illustrated instruction booklet. It`s the perfect start for any novice magician and includes Marvin`s Magic Club membership and pin badge." Here's trick #126: Wear your Marvin's Magic Club pin badge at school, and the other kids will magically kick your ass and make your lunch money disappear.
Maybe the UK could benefit from taking Idaho back. It'd only make them cooler.

3927 Brits agree that the alligator in the commercial was a brilliant touch