Next weekend, I'll be taking a break in the middle of finals to attend the Middle Tennessee Anime Convention.
But Baka-Raptor, why would you go to an anime convention? Thousands of people go to anime conventions! Don't you hate people?
Yes, but once in a while it's important to do things that you hate, just to keep your hatred in perspective. Having done nothing remotely social this past year, it's about time I got back in touch with the common man to reassess why I hate him so much. An anime convention is the perfect place to do this:
Unlike the real world, I can leave (and come back) whenever I want
They'll surely overcharge for pizza, a great reason to go on a diet
I'll be in disguise
But aren't you ruining your disguise by posting it online?
That might be the case if anybody actually read this website. Also, this picture is only a pathetic dress rehearsal. I guarantee the real thing won't suck as much.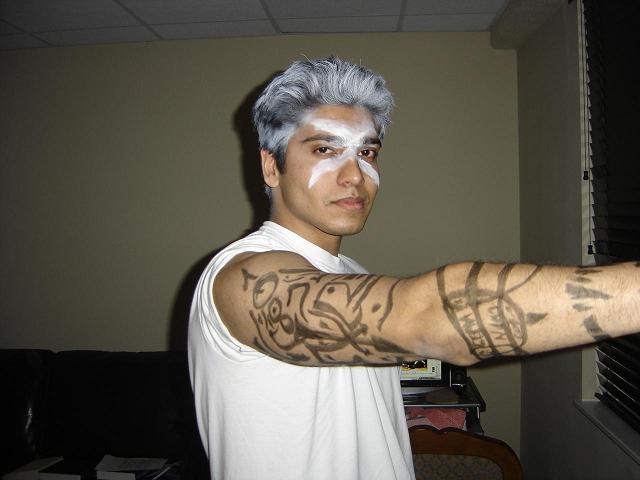 1. Surprise, I know nothing about makeup
I applied it with my thumb. Judging by the results, that's apparently not the proper technique.
2. Drawing on your arm is a pain in the ass
Contrary to popular belief, drawing a complex tattoo on your own arm isn't easy. If I had any friends, I'd get them to do it for me.
3. I completely forgot about the clothes
It never occurred to me that I'd actually have to wear something. Scar in jeans and a t-shirt?
I also need to figure out which events to attend. Any suggestions? Here's the schedule.