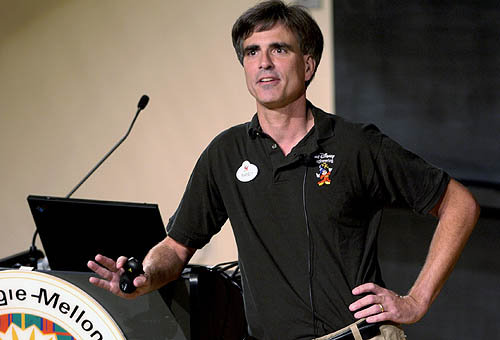 Yeah, this is another blatant filler post. Deal with it.
Professor Randy Pausch died on July 25, 2008 of pancreatic cancer. For those of you who don't know why he's worth an entire filler post, check my sidebar. Yeah, I know it's shocking, but some of you don't visit my homepage anymore now that I have an RSS feed. Check it out. And while you're there, vote in my polls, damn lazy bastards. I must have the only anime blog in the universe that averages more comments per post than votes per poll. Anyway, Randy Pausch's website is one of my five badass links. That's because he's a fucking badass and everybody should know about him.
I need to be jealous of people to respect them. I respect Randy Pausch. That means I'm jealous of a guy who died of pancreatic cancer at age 47.
Randy Pausch recieved his diagnosis in September of 2006. In August of 2007 he was told that the cancer had spread and he probably wouldn't live to see the end of the year. I'm not so jealous of that part, but it gets better. On September 18, 2007, Randy Pausch delivered his phenomenal last lecture, which has been viewed over 10 million times online.
[vid]ji5_MqicxSo[/vid]
Yeah, it's long. Deal with it. When you consider he's summing up his entire life's experiences in less than 90 minutes, it's pretty damn short. Besides, I'm a cruel heartless jerk, so if I could enjoy this, you can too.
My old roommate (pre-sellout fans remember Ghetto?) met Randy before he was diagnosed with cancer and told me he was just as awesome as the video makes him seem. I've never actually met the guy, and I'd already graduated when he gave his lecture. If he never developed cancer, I probably never would've heard about him. Where am I going with all this? Perhaps there a few Pasch-level badasses around you that you know nothing about. Should you take some time to get to know them? Eh…if you feel like it.
Final thoughts: Watch the video or I'll kick your ass. Except some of you might like that, so if that's you, watch the video or I won't kick your ass.