1. The final boss is the Qwaser of Gold
The philosophers among you might appreciate the symbolism of gold being the ultimate evil and iron overcoming it. Productive people realize that gold is one of the most industrially useless elements on the periodic table. The Qwaser of Oxygen suffocated people. The Qwaser of Sodium caused explosions. The Qwaser of Gold displayed the following fearsome powers: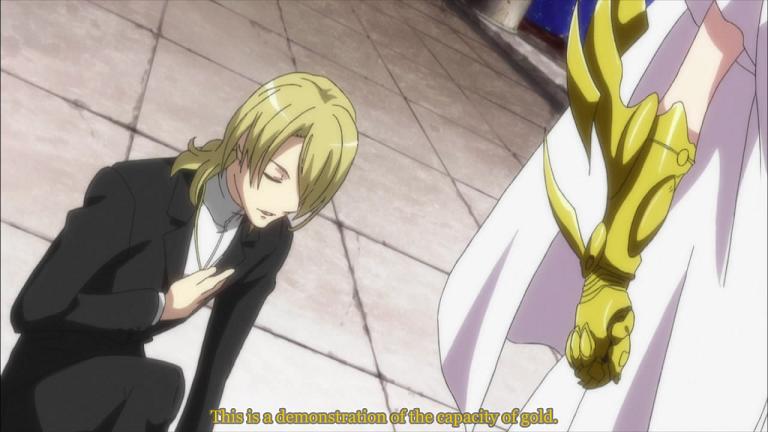 Wearing a gold arm brace
Molding gold into different shapes
Producing a golden flash of light that somehow hurts people
Possessing people (nothing to do with gold)
Levitation (nothing to do with gold)
Erecting a barrier (nothing to do with gold)
Transmuting any element into gold (I call bullshit)
Even zinc is more exciting.
But Baka-Raptor, Wikipedia lists FIVE non-jewelry industrial uses of gold!
Thank you, hypothetical contrarian, for preempting at least three comments. I've already looked over the list. The show has no photography, no radiation protection (which might've been cool), no CD production, no automobile heat dissipation, and no cockpit anti-icing.
2. Sasha's Hair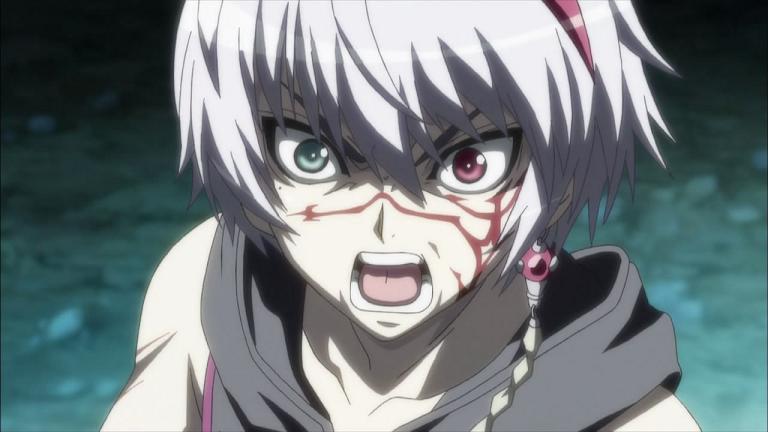 I like the heterochromia. I like the stigmata. It's a shame the stupid hairstyle has to ruin it all. First of all, I'll never get used to characters under 50 having white hair. Second of all, even though he's a fighter, he has bangs occluding his vision. Practically everyone on the show has bangs. There are more bare breasts than bare foreheads on the show, which is a disturbingly common trend in modern anime. Worst of all is his earring. At first I thought it a random braided strand of his hair, not that it makes a difference. It's hideous.
3. The second ending is better censored
I'm not just saying this because I prefer seeing underage girls with their clothes on. The censorship makes the ending artistically superior. Case in point: the checkerboard censorship. Some things are obvious in only one direction. If you watched the censored version first, it's obvious that you could uncensor it by removing the checkerboard. If you watched the uncensored version first, you'd have no idea you could censor it with a checkerboard. I was laughing my ass off the first time I saw it.
4. The filler episodes were better than the serious episodes
Plot is the most important element of any show (post forthcoming). Something is terribly wrong when a filler episode is over and I say to myself, "crap, now I have to sit through the plot again."
To the show's credit, it did pull off one of the better hot springs episodes in recent memory.
5. Tomo was better when she was possessed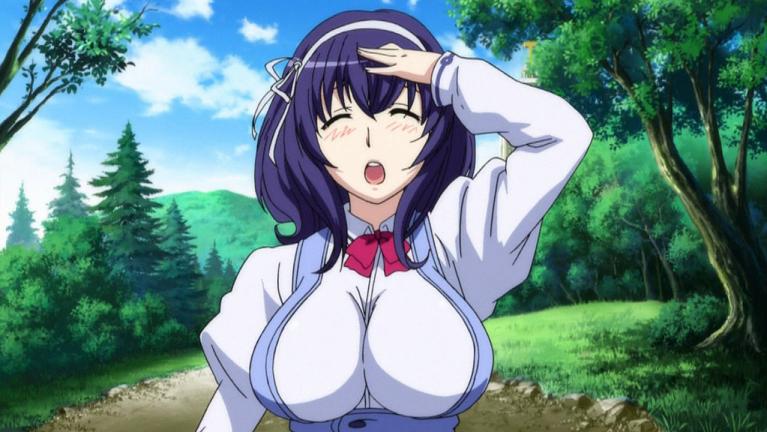 Just what anime needs, another high school girl with the personality of a five-year-old. I'm glad she got possessed about fifty times. It was the only thing that made her remotely interesting. Well, that and the inverted nipples.
Final Grade: ~
Seikon no Qwaser could've reached + levels with a more developed plot. There honestly was potential.