Back in high school, my brother would look down on me for watching anime instead of joining him for a riveting episode of T.R.L. or whatever other crap was on MTV at the time. He soon realized he was an idiot and shadowed my taste in anime thereafter. I began to trust his judgment as he trusted mine. Thus, when my brother dropped a show about time travel that the rest of the world was raving about, I initially gave him the benefit of the doubt.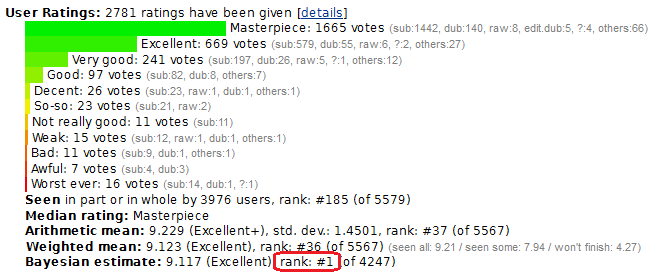 If you're reading this post, I have a message for you: you shouldn't drop an anime just because nothing happens from episodes 2–11. You shouldn't drop a show just because it's loaded with aimless banter, lame otaku fanservice, cheesy visual novel/harem dating trappings, and Moeka not wearing a catsuit. Sure, most of the time you're making the right call. The rest of the time the show is called Steins;Gate.
Everything suddenly kicks ass from episode 12 through the end, beginning with a random, unexplained scene from the Late Cretaceous, an unmistakeable sign that shit's about to get real. Then somebody dies. I won't spoil who. Let's just say pedophiles will be disappointed. The rest of the show is spent erasing the debacle built up from episodes 2–11, both literally and critically. This is a refreshing twist in the time travel genre, as most time travel plots are spent pushing forwards rather than backtracking. During this phase, the show does a great job developing a rich theory of time travel without info dumping. I'm even willing to give the plot hole(s) a free pass, since nobody really knows how microwaves work.
My only other complaint with the second half of the show is that it gets weighed down trying to represent all its visual novel dating routes. The main character basically needs to bang every chick in the show to save the world, or bang every chick in the world to save the show, I forget which one.
Kurisu: A tsundere who's actually likeable for once. Has the attitude but doesn't overdo it.
Mayuri: Tutturu my ass. She's not interesting, but interesting stuff happens to her.
Moeka: Excellent character design, negated only by the minor detail that she's clinically insane.
Suzuha: No punchline, just a great all-around character.
Faris NyanNyan: A catgirl. Fortunately, there's a character behind the gimmick.
Ruka: A trap. Unfortunately, s/he's just a gimmick.
It's also believable that all the girls want to bang that main character because he has imposing sideburns and talks all gangsta yo.
Final Grade:
++
Steins;Gate is by far the best show in the semicolon franchise. Chaos;Head (+) started strong but became a trainwreck toward the end. Robotics;Notes (~) sucks through 15 episodes.