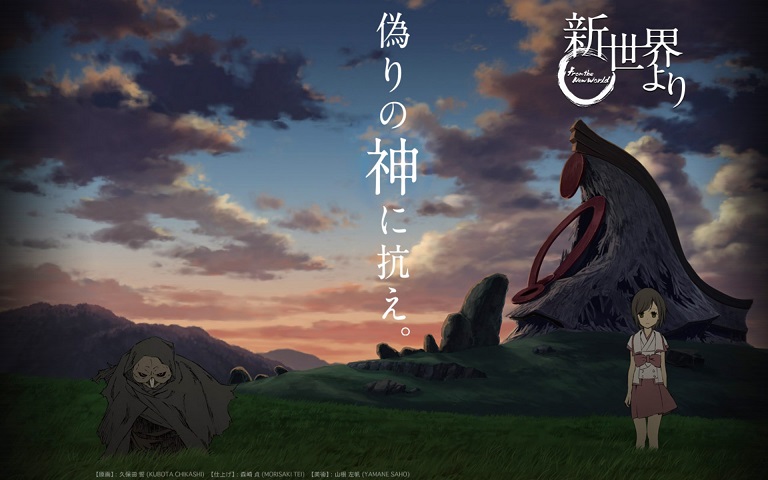 From the New World feels like it's from the old world, in that it takes you back to a time when plot mattered and seriousness was considered a good thing. Nowadays everyone's praising anime that "doesn't take itself seriously." It's the non-blood-related sister of "it is what it is." If you want mediocrity, by all means go watch some plotless "slice-of-life" anime that doesn't take itself seriously. If you want something that'll rock your soul, watch From the New World.
From the New World means business right from the start. No opening sequence. Ever. It doesn't need some teenage j-pop idol squealing Engrish while the main cast runs in place for no apparent reason. No recap filler either. You dive right into the story each time an episode comes on.
See that girl flying around in her school uniform? Nobody looks up her skirt. Ever. For all we know, underwear doesn't even exist in the new world, as there's no visual proof of any.
You know how everyone in the show is bisexual? It's not (just) for fanservice. It's 100% plot-related.
It's not entirely fair to say that elitists hate plot. They only hate plots that make sense. They love shows that either can't be explained or intentionally leave shit unexplained. It's so artistic and intellectual! Only plebs like plots that are fully developed and tie up all their loose ends.
From the New World is dark, mysterious, and suspenseful. The pacing is excellent. The characters are well-developed. While some of the plot points are predictable in hindsight, the show messes with your expectations just enough to keep you from jumping to conclusions.
Final Grade:
+++