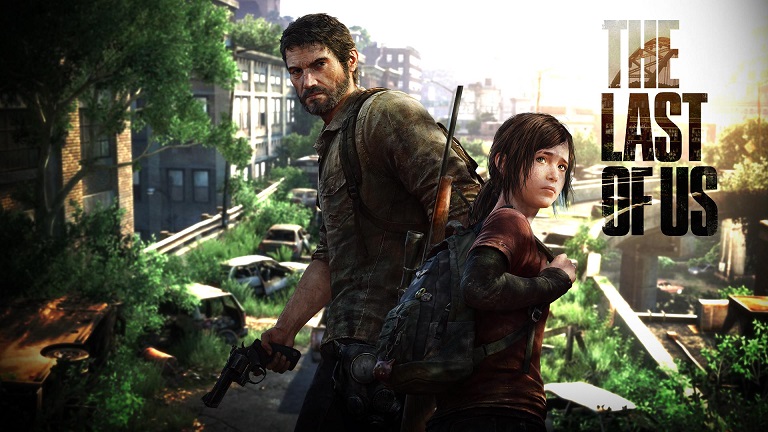 The Last of Us is a game about stealth-killing zombies is the most conspicuous ways possible. Only in The Last of Us does the moaning and flailing of head-locked enemies go undetected by enemies with their backs turned five feet away. For the first half of the game I was certain all that noise meant I was somehow screwing up. Ditto for smashed bricks/bottles and arrow shots. But oh no, alarms are triggered the moment an enemy sees you, even if you kill them before they can make a sound.
Stealth aside, the battle system is your typical third-person shooter. It's a solid battle system, but with stealth being such a huge part of the game, weapon use is significantly limited and therefore not as fun.
Storytelling is the most impressive point of The Last of Us. The story itself is very good, nothing spectacular, but it's told surprisingly well through cut scenes, items, and gameplay. The one exception to this was all the item scavenging during conversations. The Last of Us was relatively low on puzzle solving bitch work. Scavenging is bitch work for sure, but it made perfect sense in the context of the game. Quite a few times, however, you'll be walking and talking. Then you'll pass an empty room and have no choice but to search for items while your conversation partner keeps walking down the hall, causing the conversation to trail off. It kills the scene.
The various settings were all fun to play in. It was particularly nice to see that Pittsburgh wasn't impacted by the zombie apocalypse.
The zombies themselves were pretty cool. They're fast and hungry, just like raptors, but much less capable of opening doors. The downside is that there was only one zombie boss, and that boss eventually became a regular enemy.
I played on Normal mode and died more than enough to times to justify not playing on a harder level. At the same time, I wasn't forced to explore certain battle tactics that probably would've made the battle system seem richer.
I played the game with Japanese voices and English subtitles/text. The voice acting was fine in Japanese, though I'm told it's superb in English.
The Last of Us is considered by many to be the best game for the PS3. I say it's nowhere close. Of the 9 PS3 games I've played, The Last of Us ranks right in the middle. (I'm generally not into ranking, but I've played few enough PS3 games that it didn't hurt.)
Valkyria Chronicles (

+++

)
Dark Souls (

++

)
Uncharted 2 (

++

)
Tomb Raider (

++

)
The Last of Us (

++

)
Uncharted 3 (

++

)
Catherine (

+

)
Final Fantasy XIII (

+

)
Uncharted 1 (

+

)
Final Grade:
++
My review would normally end here, but this being the first game I've played since Gamergate popped up, I figured I'd try analyzing it through the lens of social justice.
My understanding of Gamergate is as follows. Women were historically underrepresented in video games, which caused them to get sexually assaulted and paid less than men. Women protested their depiction in video games by having sex with video game journalists, and sympathetic gamers brought mainstream attention to the plight of female gamers by anonymously threatening to rape and murder them. This brings us to where we are now: any game that's allowed to be considered good must be politically correct.
The Last of Us is considered the best game for the PS3 because it's the pinnacle of political correctness. Remember how Ashley was totally helpless Resident Evil 4? (Ignore for the moment that it made the game more exciting.) Unlike Ashley, the women in The Last of Us are all hard-nosed, assertive, and can do everything men can do! Plus, while the zombie enemies are mixed gender, the human enemies are all male, thus not offending anyone with violence against women.
The black characters are family men, because it's racist for black people to come from broken families. Yeah, there are black enemies, but it's not racist because they work together in perfect harmony with white enemies.
Is it sexist and racist to have a white, male lead? Not if he's going to…make morally questionable decisions, especially by way of emotion and violence, which would pretty look bad for women and black people, respectively.
In conclusion, you can safely play The Last of Us without worrying that you're empowering white men, thus making it the best game ever.