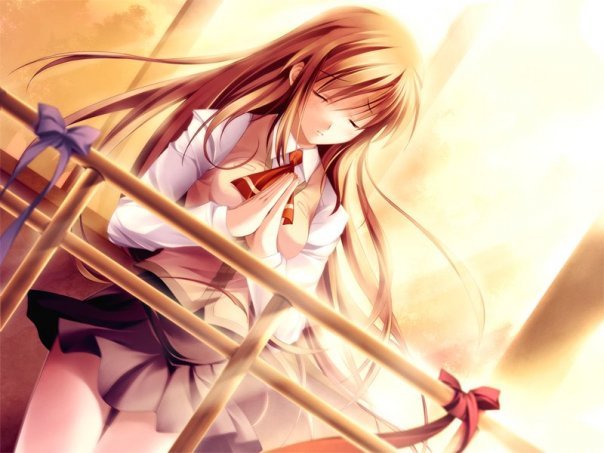 1. Fix my Eyes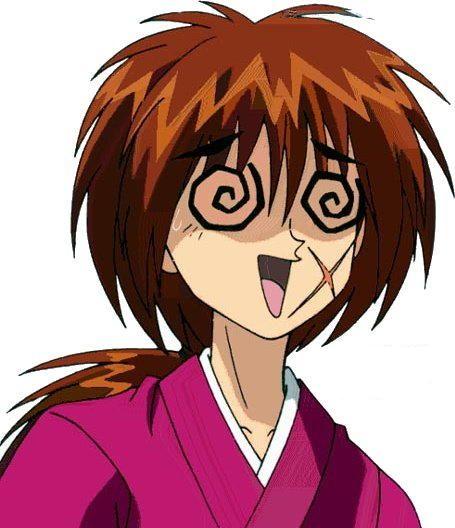 A year of pain deserves a year to fix. Here's the story so far:
Eleven months ago: I experience discomfort in my eyes, assume I can walk it off
Eight months ago: I watch K-ON, ruin my eyes permanently
Five months ago: Doctor #1 diagnoses me with blepharitis
Two weeks ago: Doctor #2 sees no signs of blepharitis, diagnoses me with ocular migraines
Last week: Doctor #3 says the ocular migraines diagnosis was bullshit
Upcoming this week: MRI, visual field tests, exophoria tests
Until I fix my eyes, updates will continue to be slow, comments will continue to be ignored, I will continue to watch less anime, and my website will continue to go downhill.

2. Watch Eureka Seven and Rahxephon
I'm currently two for two on my "watch ______" resolutions. This year I figured I'd heighten the degree of difficulty. Can Baka-Raptor watch TWO robot anime in ONE year? Only time will tell.
3. Learn to Draw
I made this resolution two years ago and suspended it. I'll probably get much farther now that I actually have something I want to draw. Still, judging by my latest artistic calamity, I've got a long way to go.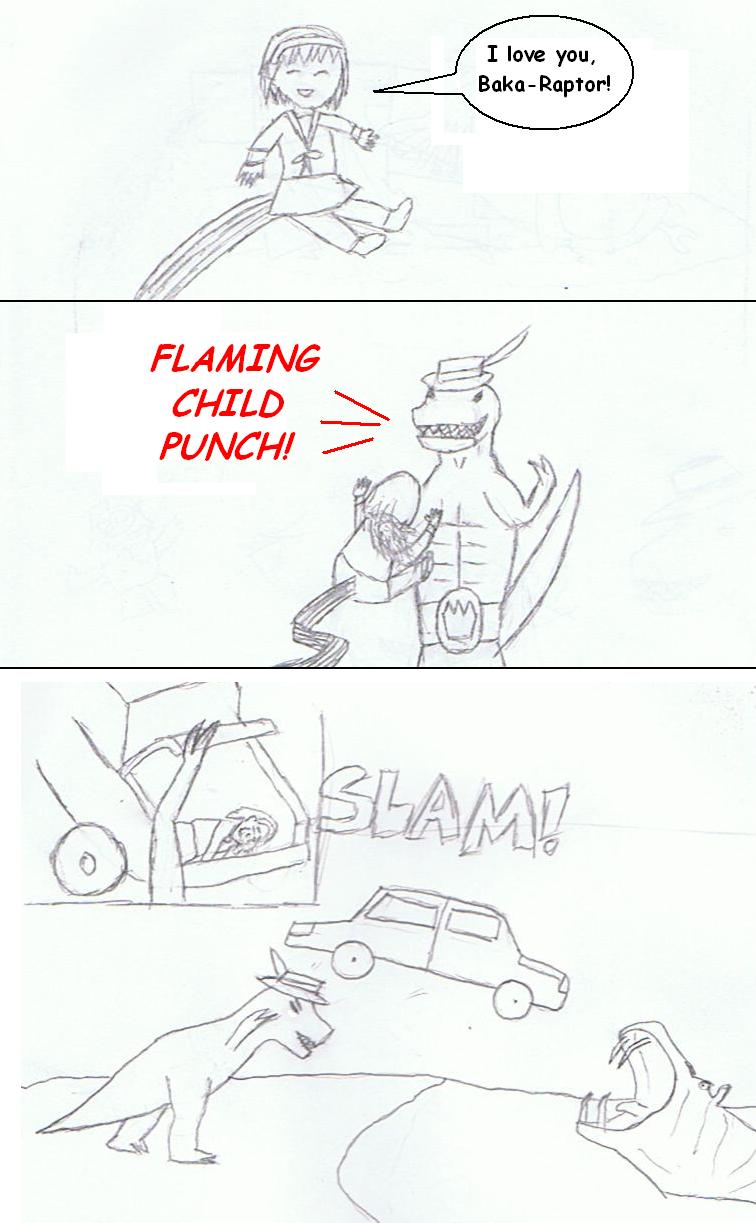 4. Show Wikipedia who's Boss


I used to own Google.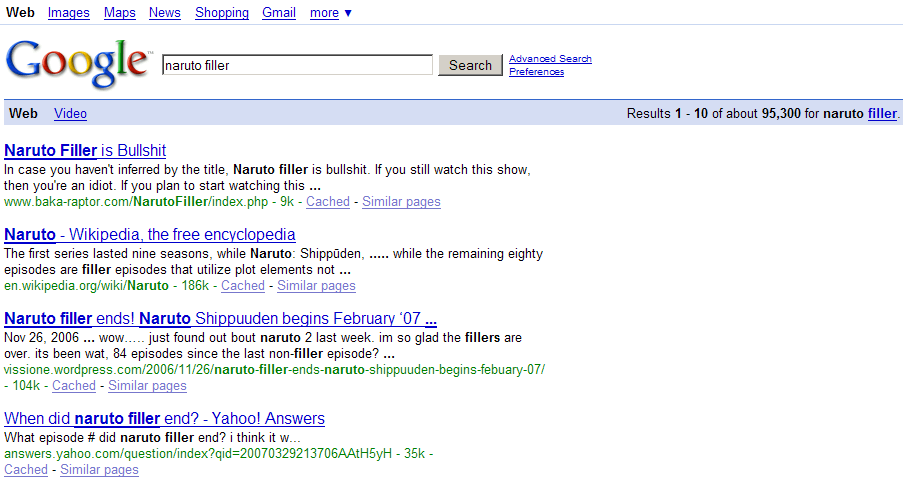 This is definitive evidence that my website is going downhill.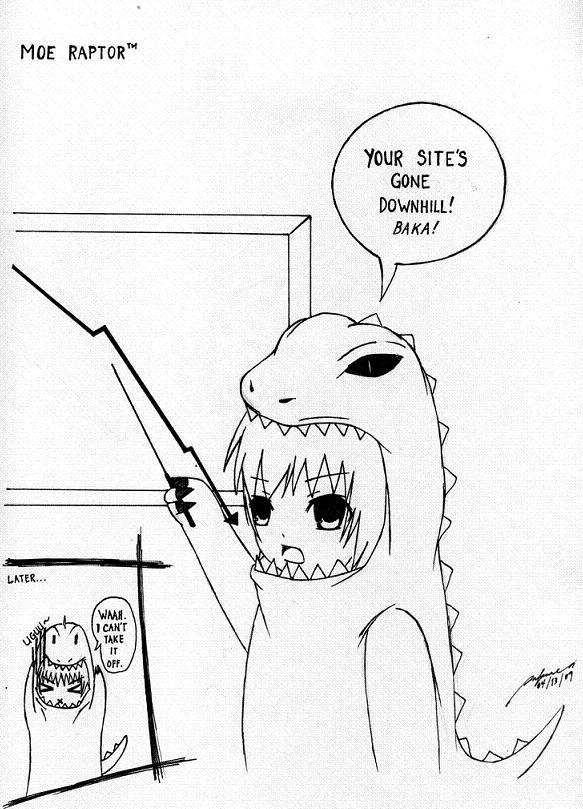 If you support my cause, link to my Naruto Filler post in every post you write.
5. Start using RSS
Never got around to it last year, will attempt again.
---
Final Evaluation: New Year's Resolutions: 2009
Last year I posted five resolutions. Here's how they turned out:
1. Start using RSS
As long as Anime Nano exists, I will keep putting this off.
Status: Extended
2. Create a MAL Account
Done. Also added ratings for every anime I've completed.
Status: Completed
3. Respond to E-mail
I received 139 non-spam e-mails over the past year:
About half were automated messages that didn't require a response (Notifications of comment replies, MyAnimeList, Facebook [haven't signed on in over a year], Google repeatedly telling me I got spam-hacked [which is why this site didn't show up on Google for about a month], etc.)
There was a fair amount of blogging collaboration e-mail. I responded as appropriate.
I responded to all of the advice e-mails.
I didn't respond to many of the fan art e-mails, but I always posted the fan art.
I didn't respond to many of the "look at this picture/video" e-mails, but I always looked.
I ignored most link exchange e-mails.
There were no pure up-sucking e-mails. They died out around the time I added comments to this site.
All in all, I didn't stick to my resolution to respond to every e-mail. Not that I care. If you send me an e-mail, I will read it. You win.
Status: Dropped
4. Watch Gantz
Done. Also caught up on the manga.
Status: Complete
5. ______________
Forgot to pick a resolution from the comments. I'll do it next year.
Status: Suspended