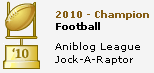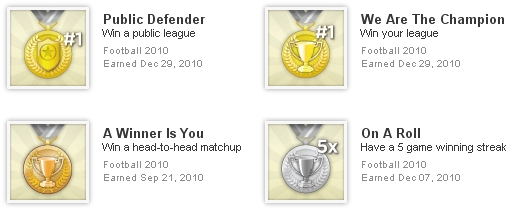 Look at that, I won my fantasy football league. How nice. I'd be lying if I said that being a winner all my life hasn't desensitized me to the once intoxicating pleasure of seeing others struggle with all their might only to fall haplessly before my feet. Still, I feel satisfied in fulfilling the social obligation of an elite: to give those less talented a reason to get out of bed in the morning, that is, teasing them with the dream of avenging their devastating and systematic abuse by my hands. Who was it that I beat again? I've forgotten already…let's see here…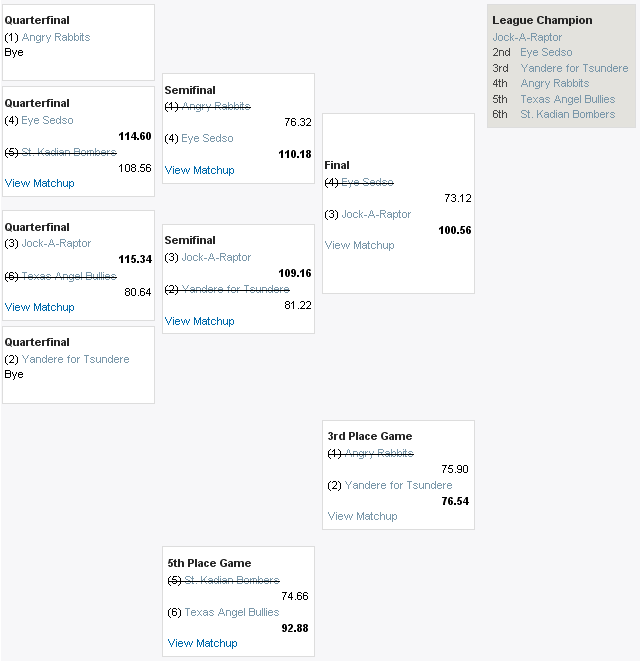 St. Kadian Bombers (Peyton Manning, Reggie Wayne, Ray Rice): Kadian's team was strong on paper. However, a free psychic consultation revealed that Kadian was Jack the Ripper in a previous life, and his bad karma carried into the fantasy football league. Early bad luck led him to frequently change his roster, which coupled with even more bad luck to snowball into a maelstrom of despair and failure. After his humiliating yet uncanny loss to the god awful Texas Angel Bullies, Kadian cut all his players. Only Glo was foolish enough to pick one up, if only briefly, thereby contracting the Kadian Kurse and assuring his fated demise.
Texas Angel Bullies (Drew Brees, Brandon Marshall, Maurice Jones-Drew): Jubbz ran the laziest team ever. Holy shit. He only altered his lineup about three times all season. He regularly started players on bye. Twice when he did change his lineup, he left Jermichael Finley in, even though he'd been on IR for weeks. AND HE WAS THE COMMISSIONER. His "excuse" was that he was also playing in another league. I can't believe he actually won three games. It's probably the most impressive feat in the entire league all season.
Angry Rabbits (Tom Brady, Desean Jackson, Adrian Peterson): RP wasted no time in turning his #1 draft pick into the highest scoring team in the league. Cocky and undefeated as he was when we first matched up, RP demanded that I write an ode to him if he went undefeated throughout the season. I replied that I'd sing an ode to him if he went undefeated. I went into the Monday night game with a 10 point lead. He had Tom Brady. I had Randy Moss. Tom Brady put up 10.72 points. Randy Moss put up 0.00 points and got kicked out of town. RP got the win, but the stage was set to beat him the next time around. Unfortunately, Kadian of all people got to him first. I guess his season wasn't a complete failure after all.
Yandere for Tsundere (Philip Rivers, Andre Johnson, Arian Foster): Shinmaru had a solid team with one glaring weakness: the Houston Texans. He who lives by the Texans dies by the Texans. Early in the season, he was starting Matt Schaub, Andre Johnson, and Arian Foster all at the same time. Come on, the first rule of investment is to diversify. You'll do great if the Texans play well, but if they suck (big if), you're screwed. Eventually he caught on and started Rivers, but the Chargers aren't exactly a model of reliability either. Overall, he was a good barometer for the league. He never lost to anyone with a worse record, he beat everyone at least once, and good teams found ways to beat him, like my team, which beat him three times, including the playoffs.
Eye Sedso (Michael Vick, Calvin Johnson, Chris Johnson): Glo had a mediocre record in the league overall, but it was the team that posed the greatest threat to me. He never figured out why because he's a stupid art student, but anyone with a basic understanding of statistics can put it together. My QB was Aaron Rodgers; he had Greg Jennings (who he didn't play in the finals, even after seeing how I OWNED Shinmaru by playing my Vincent Jackson over his Philip Rivers). My top WR and RB were Roddy White and Michael Turner; he had Matt Bryant, the Falcons kicker. Get it yet? Points going to my top QB, WR, and RB were being sucked away by players on his team. Meanwhile, he had explosive players in Michael Vick and Chris Johnson to make up the difference. It was like he'd tailored the perfect team to destroy me, except he was too engrossed watching Motto To Love-Ru to realize it. I honestly thought he was paying attention during Week 6, when his team named "Rape" defeated my team named "Public Rape." Oh well. Now he has to watch Aria as punishment.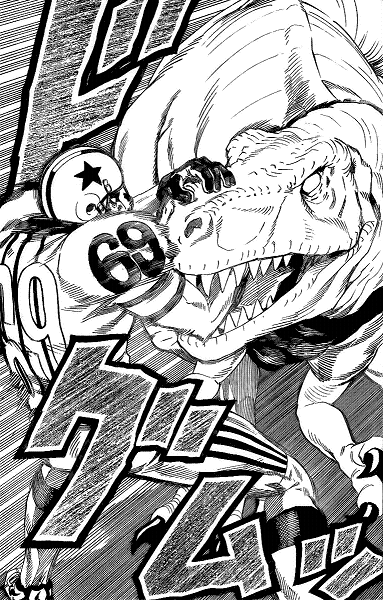 Enough about these guys. Let's talk about me. My regulars for the season were:
QB: Aaron Rodgers, Ben Roethlisberger

RB: Michael Turner, Jamaal Charles, Darren McFadden

WR: Randy Moss, Roddy White, Malcom Floyd/Vincent Jackson, Terrell Owens

TE: Dallas Clark/Jacob Tamme

K: Nate Kaeding

DEF: New Orleans, New York Jets
Some of my crappier part-time members included Pierre Garcon, Donald Driver, Hines Ward, San Francisco DEF, New England DEF, and New York Giants DEF.
My regular season results: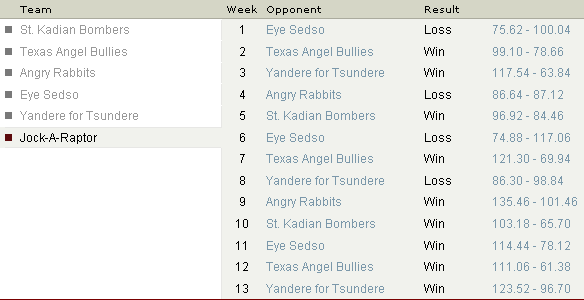 I started out with the fifth pick. A loser might complain about such trivialities. My top QB got two concussions. My top WR was the biggest bust of the season. My effective top WR was on the same team as my top RB. My second RB got shafted by split carries. My top TE went on IR. Even my K got injured. I never expected to put up the most points, so I kept my game strategic. My goal was to combine statistical analysis, portfolio management, and smack talk to confuse, intimidate, and trap my opponents into making foolish roster moves. It worked just as planned.
See that Points Against total? Do you see that? This is a statistic many would assume I have no control over, yet, over 13 games, I averaged 10 points lower than my nearest competitor and 21 points a game lower than the highest team in the league. My average point differential was 18.66 (18.02%). My team the only one with those stats being at least 18, making my team a true extension of myself.
If you currently see me as cold and calculating, you may be shocked to learn that my team was full of heart and love and stuff. You see, the MVP of my season was Randy Moss. Yeah, that Randy Moss, the one who got traded from every team except my own. He screwed me over quite a few times, but I never gave up on him. I refused to cut or trade him. Eventually I noticed a peculiar trend: as long as he remained on my bench, my team never lost. I ended the season with eight consecutive victories, including the playoffs, all thanks to Randy Moss being some kind of suck sink who sucked all the suck from my starters to the bench. In classic supervillain fashion, I arrogantly revealed this hidden source of power to Glo right before our final battle. I still won.