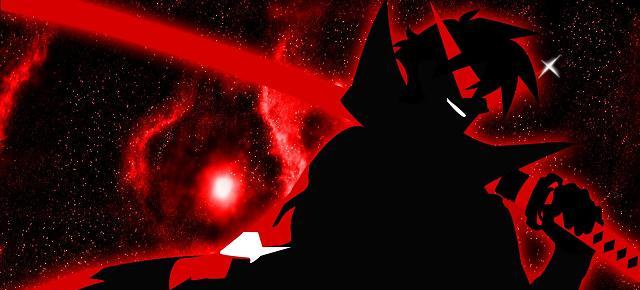 Quick, name a GAR character. Did you say Kamina? Why not Guts, Kenshiro, or Golgo 13? Why is it Kamina's name that's synonymous with GAR? I asked the OH! Team to enlighten me.
Baka-Raptor: I don't get it. Why does everyone keep saying Kamina is GAR?
Lbrevis: Kamina's dramatic speeches, fearlessness and hotheaded battles with the beastmen inspired Simon and every other human who met him.
Baka-Raptor: You know who else is fearless, hotheaded, gives dramatic speeches, and inspires everyone who meets him? Naruto.
Lbrevis: Men wanted to be him and women wanted to be with him.
Baka-Raptor: Nobody wants to be Kamina. He died at 17, and in all likelihood, a virgin. Women don't want to be with him; little 14-year-old girls do, and a girl that age would fall in love with a trash can if it looked at her the right way.
Lbrevis: Kamina had the most badass attacks and he invented the grandaddy of them all: the giga drill breaker.
Baka-Raptor: Then he invented getting his ass kicked. He even secured a patent on it.
Lbrevis: In the Gurren Lagann universe Kamina basically invented the Manly Death.
Baka-Raptor: Yeah, by default, because none of the other "good guys" died in the first arc. That means Kamina also invented the wussiest death, the lamest death, the gayest death.
Lbrevis: Kamina's sunglasses alone were one of the most manly things in the entire show. Had he not worn them I'd be willing to bet that anyone who looked directly into his eyes during a fight would've simply burned to a crisp from the strength of his blazing soul staring out.
Baka-Raptor: That's the stupidest thing I've ever heard.
Lbrevis: Even just the memory of Kamina was enough to rescue the entire Gurren Lagann team from ending up stuck in an alternate universe forever.
Baka-Raptor: Let's give everyone credit for what they do in other people's dreams. Last night I had a dream in which ****************
riceisnice: Kamina is GAR because he can inspire little boys to use their drills to pierce the heavens, reach where those penetrators haven't been before.
Baka-Raptor: Kamina had to repeat the same damn phrase over and over again for Simon to get the message. Krauser succeeded without even trying.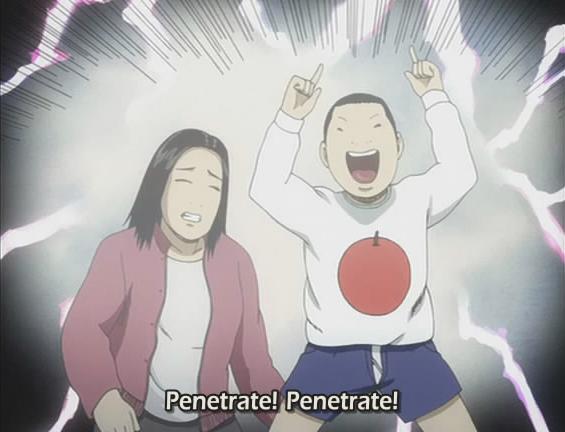 riceisnice: Women fall for him, even though he comes off as a brash and brute-like big-mouth; he is a pimp in short.
Baka-Raptor: Women don't fall for him; little girls do. He's not a pimp in short; he's short of a pimp. But you're right that he has a big mouth. Maybe he'd still be alive if he could shut up and focus on not getting raped.
riceisnice: In his private moments, Kamina is able to break down and reveal his true emotions. What a true "man."
Baka-Raptor: Awwwwwwwwwwwww
riceisnice: Kamina can think up "combine" moves that join together two hulking pieces of steel/something. This man is a blacksmith, a GARsmith.
Baka-Raptor: Gar Smith is an environmental journalist. Sounds like a wuss to me.
riceisnice: We can't forget the manly death that comes from trying to save his loves ones.
Baka-Raptor: Actually, he died because he screwed up royally…
riceisnice: Of course, this death could have been prevented through a little preparation, but real men, GARmen, don't think. They act!
Baka-Raptor: Oh, so he was just acting dead…
beanbrew: Baka-Raptor said that the post would be biased in his favour. He is on the "Not GAR" side. I want to be on the winning side.
Baka-Raptor: I don't recall saying that.
beanbrew: Real men don't like breasts. Real men like flat-chested little girls.
Baka-Raptor: Agreed. Real men don't like breasts; they love breasts. They also know that 14-year-old girls don't have any.
beanbrew: Real men wear pink. Kamina does not wear pink.
Baka-Raptor: Kamina is clearly uncomfortable with his sexuality. In any case, real men are colorblind. I bet Kamina could tell the difference between Sunflower and Canary.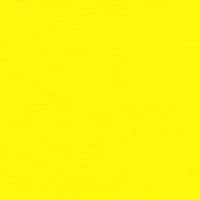 beanbrew: Real men would give me more talking points about how they aren't GAR.
Baka-Raptor: See above
beanbrew: Real men go back in time to try to kill themselves.
Baka-Raptor: And Kamina never tried that. Not even once. Thank you for agreeing with me.
---
This was originally posted two years ago at a website that no longer exists. Here's the timestamp to prove it:

Special thanks to otou-san for taking less than three years to get a backup of the post to me.