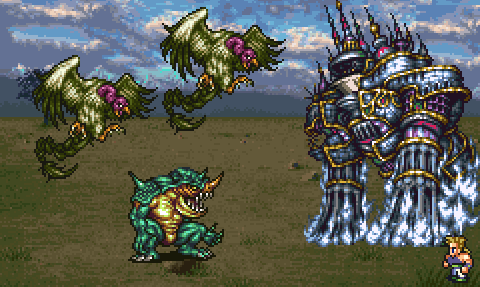 Summoning is the video game equivalent of calling over your big brother to fight for you on the playground. There's neither skill nor honor. Fight for yourself you pussy.
Summoning is a gimmick that's been taken too far. While I can forgive the first few who tried it, summoning systems to this day suffer from the same old flaws.
1. The writing sucks
Sometimes the summons are just there. Having little to no explanation for their existence is poor writing in its own way, but it's not so bad. At least you can ignore it.
The bigger problem is when summoning is so heavily written into the story that you have to use it. It's a necessary component of the battle system no matter how boring or cumbersome it is. It also keeps the story from moving on to stuff that's probably more interesting and certainly more unique.
2. The gameplay sucks
Summoning scenes are long and repetitive. A typical weapon skill or magic spell barely eats up a second or two. A typical summoning scene is a lot of hype and fanfare that gets you much less damage per second of screen time. You're just counting down the seconds until you can launch a new attack.
There's also a psychological distance between the player and the summon that makes the battle less engrossing. Cloud can die. Bahamut just dissipates into the ether.
3. The management sucks
Leveling up summons is usually different from leveling up party members. In addition to the menu screen bitch work, it also means the summons could end up disproportionately strong or (usually) weak.
In conclusion, I'm still nowhere close to beating Granblue Fantasy after playing for a year.
Also, this is the approximate 11 year mark of the website.