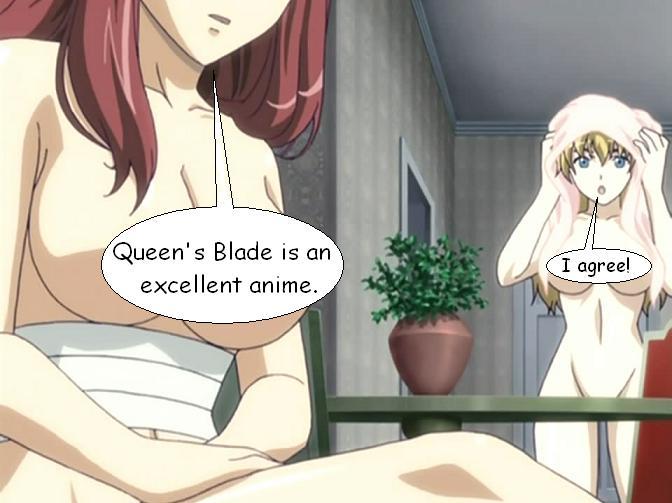 All it took for Queen's Blade to win my endorsement was a single episode. Twenty-three episodes later, I'm doubling down.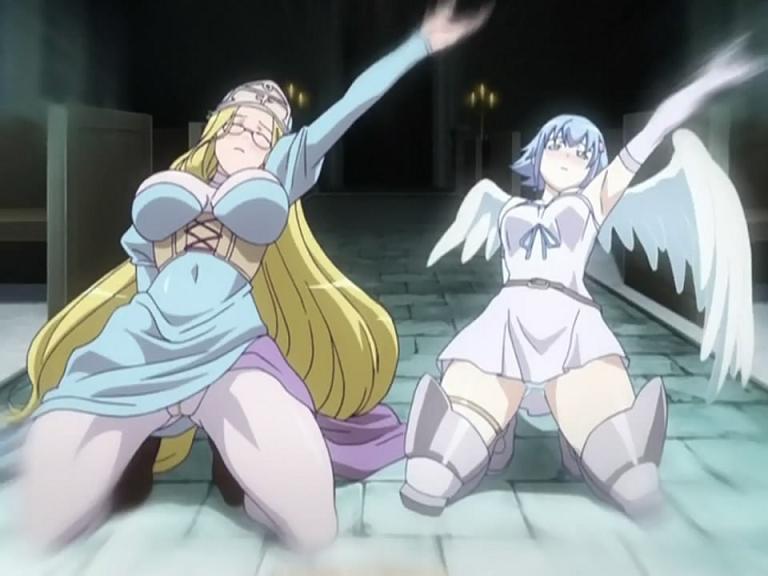 I wouldn't watch Queen's Blade if it had a shitty story. Forget for a moment the stereotype that hentai/ecchi/fanservice anime have flimsy plots. A plot that's "not bad for an ecchi anime" still wouldn't cut it. I'm a plot man. I demand better. Even if Queen's Blade did nothing particularly wrong, a bland or generic story would be reason enough for me to drop it. In fact, I almost did.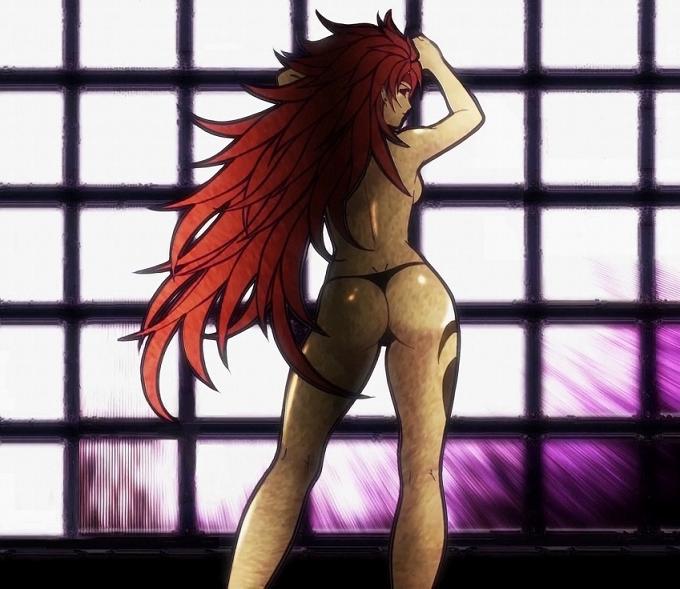 The defining moment came in the third episode. While Reina was busy mud wrestling, Risty was secretly presented the opportunity to sell her down the river. Nine out of ten times, this sort of situation plays out predictably:
Serious contemplation (or totally misleading indications of serious contemplation)
The power of friendship saves the day
Everyone lives happily ever after
I hate clichés. I hate predictability. If Queen's Blade wasn't going to offer me an interesting story, I might as well be watching real porn. In the middle of the episode, I swore to myself I'd drop Queen's Blade if it went down the sappy route. Then Queen's Blade socked me from the blind side:
Serious contemplation
Betrayal
Risty lives happily ever after, Reina gets beaten down in the next episode
My faith in the series was cemented. The writing wasn't just good enough; it was actually good. If you're still not convinced, check out TV Tropes, which lists Queen's Blade as Growing the Beard (the opposite of Jumping the Shark):
The Queen's Blade anime makes a really bad first impression, with its hentai-inspired character designs, fan service up the wazoo and copious amounts of fetish fuel. It redeems itself after a few episodes by presenting a rather gripping story and compelling characters, even though a lot of people may still be distracted by the show's huge focus on well-endowed female bodies.
Now, if you are interested in a half-assed, porn-centric excuse for a story, check out the OVA.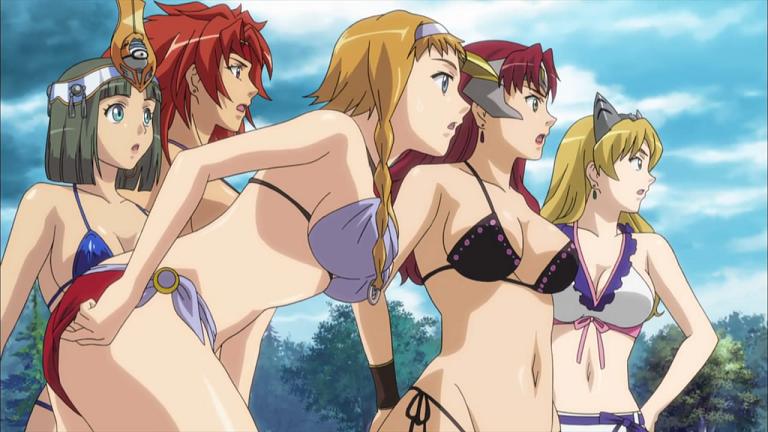 But Baka-Raptor, their proportions are ridiculous!
No, I'd say they're just about right. Your basis for comparison should be other anime characters, not real women (unless they're porn stars). Rangiku Matsumoto, for example, visibly outranks all but two characters in the entire show: the nun (second picture from the top) and Cattleya (below). Both have absurd proportions, but not in a bad way. The nun is a gag character, and Cattleya is pretty thick all over.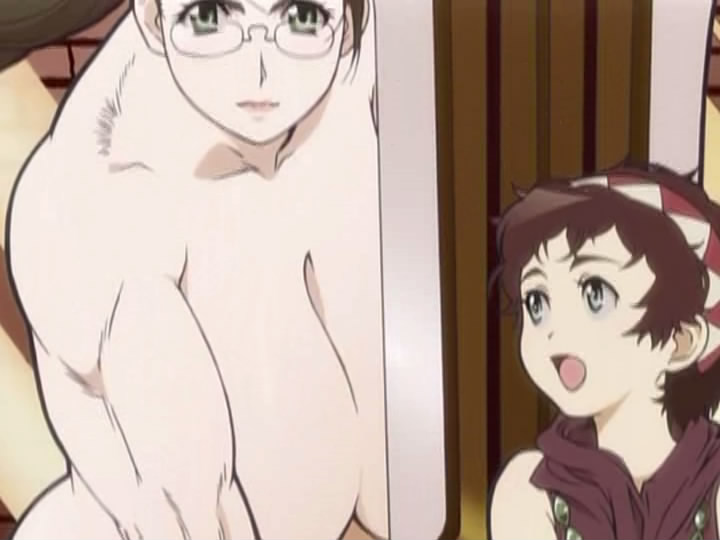 But Baka-Raptor, this show is demeaning to women!
Are you kidding? These women take charge and kick ass. It's the moé shows that demean women by portraying them as stupid and helpless.
But Baka-Raptor, if you want to see naked women, why not watch hardcore porn?
Because hardcore porn has men in it. Non-gay men don't want to see dicks swinging around, which is why lesbians and tentacles were invented. Queen's Blade has plenty of both.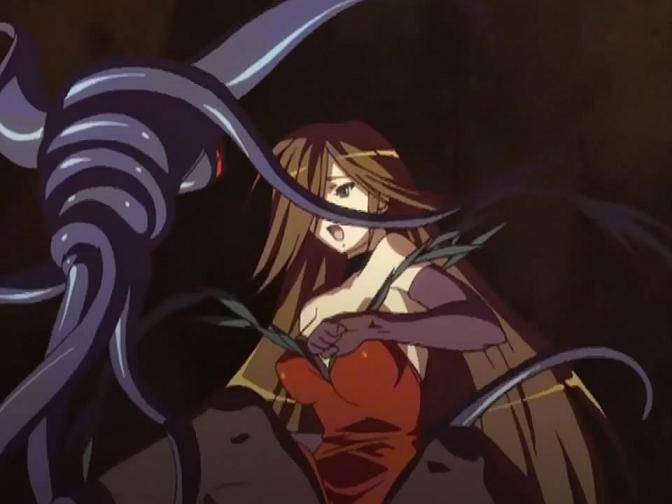 This is Nyx, the best character ever. She's basically a yandere take on the neo–tsundere. As neo-tsunderes frequently alternate between timid and bitchy, Nyx frequently alternates between timid and murderous. The transition from timid to murderous occurs when she gets tentacle raped by her weapon. Thus, Nyx always exists in one of three states: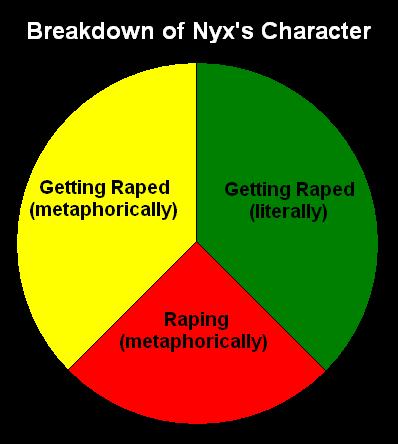 The award for best character design goes to Allean. I realize how gay this about to sound, but whatever: I love her clothes.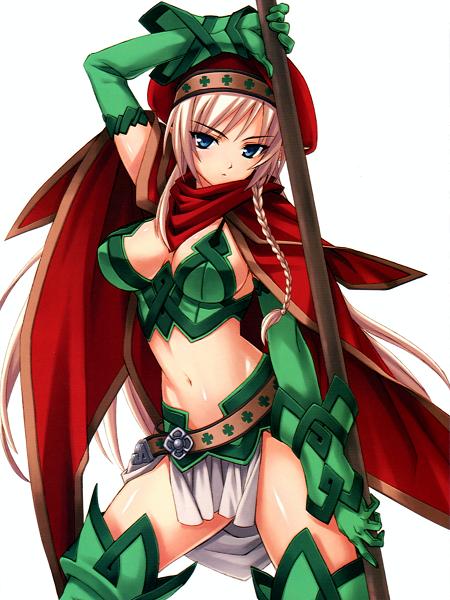 Finally, a fanservice anime creative enough to go beyond catgirls and maids (there is a maid, but she's a scythe-wielding lesbian ghost maid). Finally, a cast of fully grown women with a token loli, not a bunch of lolis with a token adult.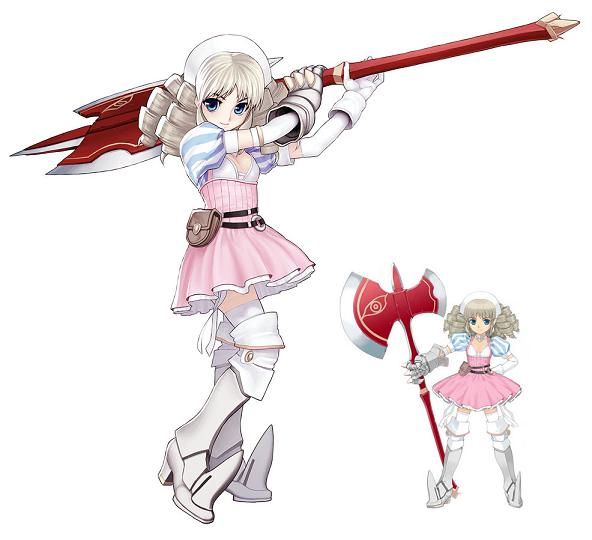 But Baka-Raptor, if Queen's Blade is actually good, why do so many bloggers say it's terrible?
Several reasons:
They're pedophiles
They're gay
They hate women
They hate porn
They're jealous of women more attractive than them
Queen's Blade killed their family
They have no comedic talent and can't get a laugh any other way
They never gave Queen's Blade a serious chance
I can't tell you how many bloggers criticized Queen's Blade for "pretending to have plot" just because they saw a few nipples. Even some of the bloggers who stuck with Queen's Blade frequently made statements along the lines of, "Queen's Blade is developing a plot, I don't know if this is a good thing." I joke a lot about being objective and unbiased, but the sad fact of the matter is that I'm a model of impartiality compared to most anime bloggers. Like the other bloggers, I picked up Queen's Blade with the sole intention of making fun of it, but when I saw that it wasn't complete garbage, I had the balls to give credit where credit was due.
Here's the bottom line: Queen's Blade is loaded with porn. If you don't like it—or at least tolerate it—you're not going to like the show.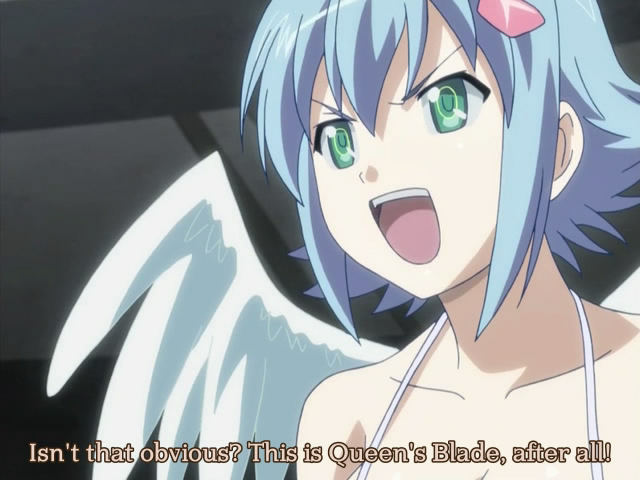 I'm not going to tell you to lower your standards. I'm not going to preach that "it is what it is" or "you're watching it wrong." I'm not going to hide behind the slice-of-life veil. I'm not going to pretend the show has some deeper meaning that all its critics missed. All I ask is that you leave your preconceptions at the door. Don't let the reputation of a few crappy hentai OVAs spoil your enjoyment of every anime with big, jiggly titties.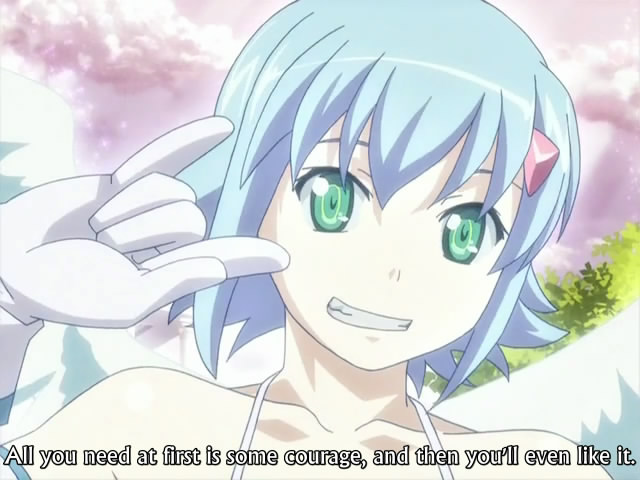 Final Grade: +
But Baka-Raptor, if you love Queen's Blade so much, why did you only give it a single +?
Because I took it seriously, the same way I watch all anime. When Queen's Blade screws up, I get mad; I don't make excuses for it. Queen's Blade has several flaws, most of which begin with the letter "R" and end with the letters "eina." Like lead characters in many action anime, Reina starts off useless, powers up overnight, and becomes practically invincible by the end. The process was cushioned a lot better than I expected, but the "zero to hero in no time flat" transition can never be completely smooth. As a result, many of Reina's earlier fights sucked, and many of her later fights felt cheap.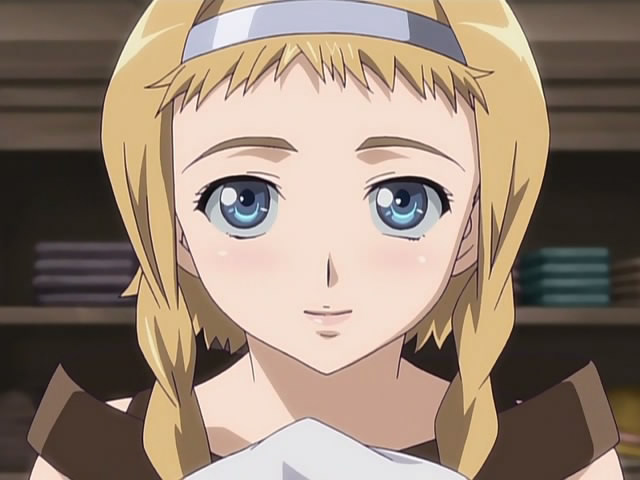 Now for some non-Reina complaints:
Some of the drama was pretty cheesy
The animation was shoddy at times, particularly during the first season
Nyx's fight had a shitty ending
Echidna never actually lost
Nowa sucked (pantsless pubescents have no place in Queen's Blade, go back to Strike Witches)
A note in the first season's opening was a bit flat (the only thing flat about Queen's Blade)
UPDATE: I haiku'd every episode of Queen's Blade with halfadeckshort.