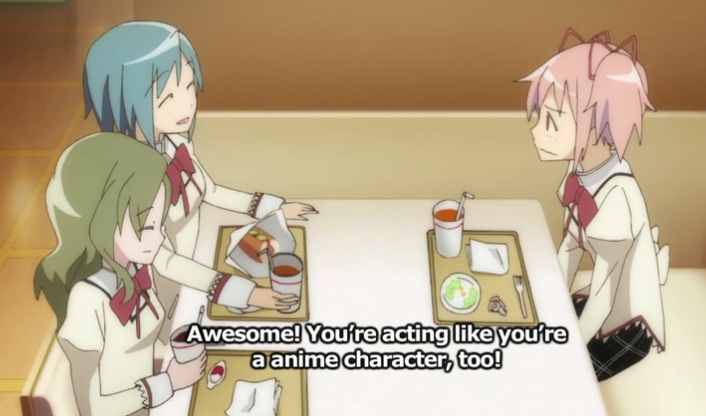 Two things irk me about this scene. First of all, words beginning with a vowel should be preceded by the indefinite article "an". Second of all, anime characters talking about how they're like anime characters is lazy, cheesy, unclever bullshit.
It happened all the fucking time in the Daily Lives of High School Boys, where at least it was easy to roll your eyes, shake your head, and dismiss it as a lame filler joke. It's a completely different matter to stick this kind of line in the finale of Puella Magi Madoka Magica.
The cycle of death has finally ended, we're mourning the sacrifice of our savior—oh, and by the way, we're just anime characters.
Is there a more effective way to kill the mood? It's like when Rose of Versailles recreated tense historical moments only to ruin them with unnecessary details that were blatantly fictional. Why go through all the trouble of absorbing us into the show if you're just going to shove us back into the audience?
Sometimes in everyday conversation I'll compare myself to an anime character. This is acceptable because:
I'm not an anime character (yet)
I watch anime
I'm talking to people who watch anime
They know I watch anime
I know they watch anime
We're talking about something that can best be expressed through an anime comparison
We never saw Madoka or her friends watching any anime. If we did, the comparisons might feel natural. Otherwise it makes the anime comparisons seem like cheap otaku fanservice. Holy shit, moé magical girls watch anime too!
Why not make a comparison to TV in general? Maybe even a book or a movie? Meeting someone you think you've seen before isn't unique to anime. It's not like she got tentacle raped.
UPDATE: The opening screen shot is from episode 1 around 15:34. As some have noted in the comments, the word "anime" is never used. I'll give it the benefit of the doubt, not that it's off the hook by any means.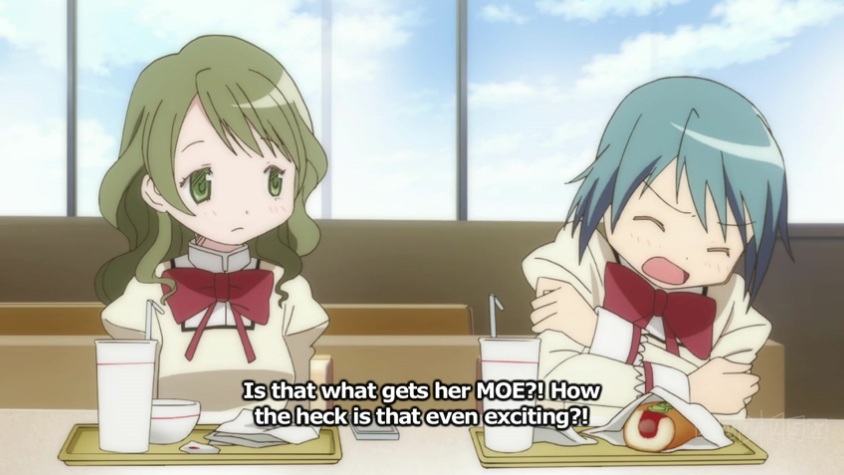 The word "anime" is explicitly used in episode 12 around 18:14.