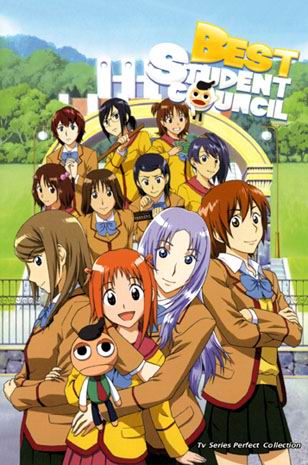 Wow, another school-life comedy about a bunch of girls. The main character is a clueless transfer student. She's also an orphan supported by a mysterious wealthy benefactor. Her only friend a back-talking puppet with a mind of its own (but not the kind that solves murder mysteries). And the student council she joins comprises a bunch of stock characters whose varying talents and personalities somehow work in harmony to achieve their collective goals.
Let me cut to the chase: Best Student Council is the third most generic anime in the universe.
And I ate this shit up.
Finally, a bunch-of-girls school-life comedy that doesn't hang its hat on flashy animation, shitty jokes, and pedophilic fanservice. Best Student Council focuses on what truly matters in a school-life comedy about a bunch of girls: interesting character interaction.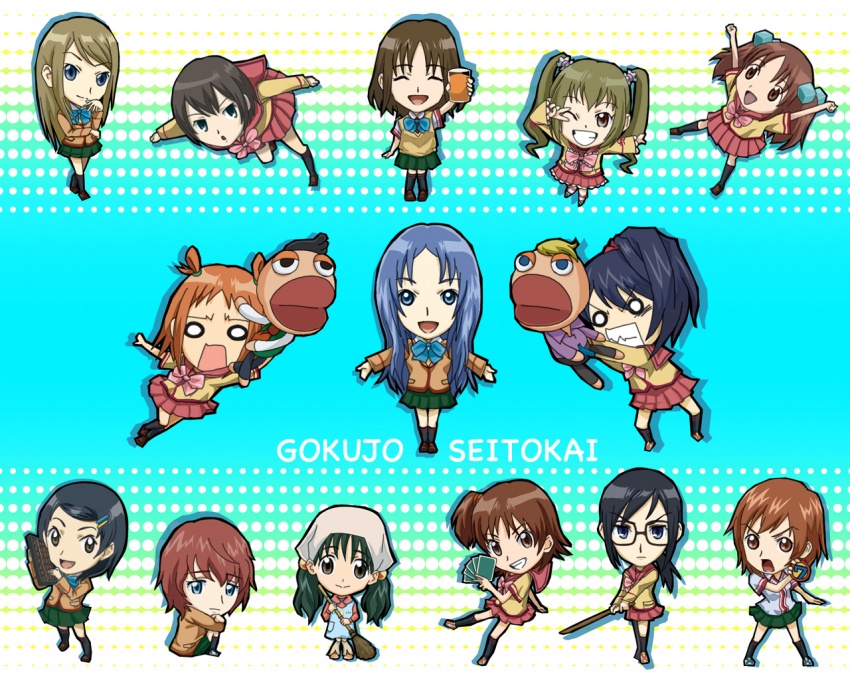 The characters may be generic, but they're utilized extremely well. From left to right and top to bottom:
Data girl
Spy girl
Teflon girl
Brat girl
Ninja girl
Useless girl
Useless girl's wise-ass puppet
Girl whom everyone has a lesbian crush on
Irrelevant puppet from that one episode
Foil girl
Budget girl
Broken-English girl
Little girl
Synonym girl
Glasses girl
Tough-with-a-cute-side girl
Even if you wouldn't like their standalone personalities, you'll end up liking all these characters because of the value they each add to the cast. Many shows waste the potential of their large casts by giving only a small subset consistent, meaningful screen time. In Best Student Council, no girl is an island.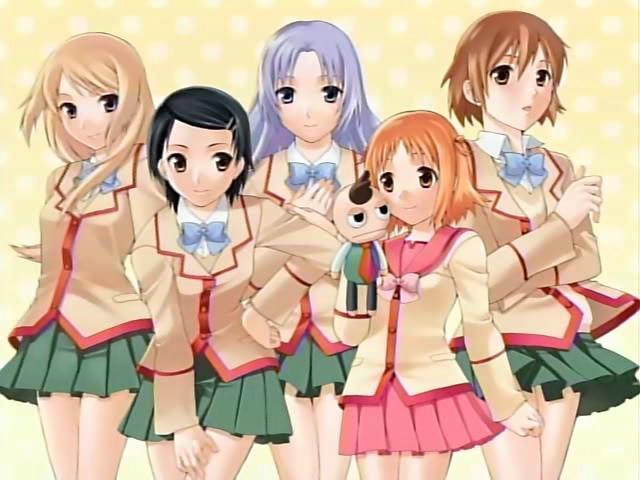 Another reason I got a kick out of Best Student Council is that I watched it dubbed (which is why I haven't been calling it Gokujou Seitokai). I saw the first two episodes in English and stuck with it for three reasons:
I speak English
New voices sound weird when you switch from the language of first impression
Comedy is better dubbed
When you're watching a subbed joke, you're trying to put together three elements: a funny written line, a funny tone of voice, and funny visuals. That can never have a stronger comedic impact than taking in the line, the voice, and the visuals as one. Of course, subs are fine when the crisp delivery of a dub won't do you any good:
It's a Japanese joke with no English equivalent
The joke wasn't funny in the first place
Dubbing is a dubble-edged sword: good jokes sound better but bad jokes sound worse. Like all comedies, Best Student Council has its share of bad jokes, but unlike some shows, it doesn't follow up each joke with a report on why the joke is supposed to be funny. Best Student Council sees no need to masturbatorily congratulate itself every time it delivers a punchline. If you didn't laugh when the joke was told, you're not going to laugh when the joke is explained. Or explained again. Or explained again. The show makes its jokes and moves on.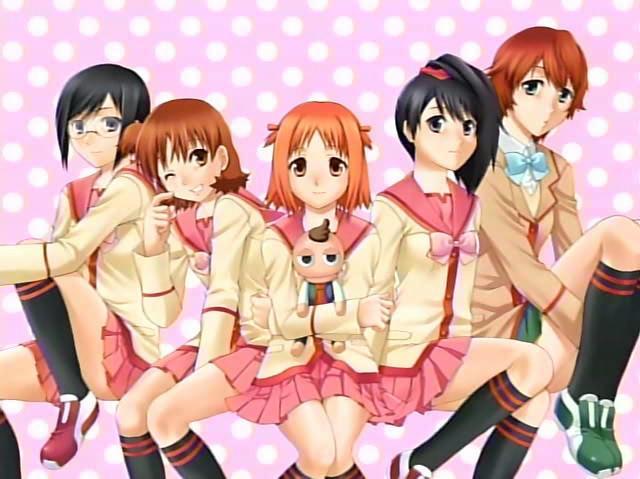 I'd like to think that Best Student Council is an average show, or at the very least, what an average show should be. But that would be too optimistic an opinion of "average." A show that offers nothing particularly unique but excels at the fundamentals and does nothing particularly wrong is well above average, especially considering the genre. And no, don't blame my cynicism on K-ON; I've been underwhelmed by bunch-of-girls school-life comedies for a long time. Lucky Star, K-ON, Hidamari Sketch, Maria+Holic, Girl's High, and Otoboku (to name a few) were all unique—uniquely shitty. Best Student Council beats all those "unique" shows simply by being fun to watch. And for that it deserves my praise.
Final Grade: +
Note: You can watch Best Student Council dubbed on YouTube or Anime Network. Both are free. Anime Network requires you to register. YouTube has poorly timed commercial breaks. The choice is yours.